all text articles
Home
>
list
>
labor
Haagen-Dazs Workers on the Picket Line
Choi In-hee, Reporter flyhigh@jinbo.net
Workers of Haagen-Dazs, which is well known for its ice cream products, went on strike on January 23. Haagen-Dazs union, an affiliation of Korean Chemical and Textile Workers' Union, staged a rally in front of the Haagen-Dazs' office in Chung-dam street, Kang-nam District and announced to go on strike.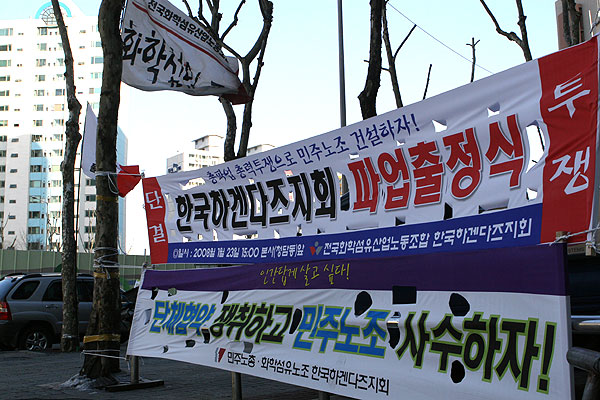 ▲ On January 23, Haagen-Dazs union staged a rally in front of the Haagen-Dazs' office in Chung-dam street, Kang-nam District and announced to go on strike.
Outsourcing Plans Made Worries
Haagen-Dazs union workers consist of almost Haagen-Dazs Korea workers and several employers of General Meals Korea, an affiliation of American food company Haagen-Daz, which delivers corns and snacks. Most union members deliver ice cream products to convenient stores and supermarkets, and work in each store directly managed by Haagen-Dazs.
Announcing plans of outsourcing and restructuring, a new figure was appointed as manager of the company last July. The plans provoked worried reactions including making labor union. The union claims that the employer has avoided collective bargaining and shown insincere attitude in agreement process.
The union leader Lee Young-sun said in an announcement that a transnational company Haagen-Daz is threatening job security, and forcing low wage and overtime works. Lee said "If the company has ever taken the matter seriously even for an hour in five months, there might have been no deadlock like this."
As workers have organized union and demanded requirements, the firm made immediate response. The company said they recognize the union, but "deal with according to the (Labor Standard) Law." The firm is thought to consult Kim & Jang, one of the best law firms in Korea.
▲ The union is calling for collective bargaining and ensuring the operation of union.
A Demand that Cannot Be Conceded: 'Ensure the operation of union'.
Some suspicions were raised that since January 14th an illegal contractor has taken charge of the delivery service. The suspicion says that 'P' convenient stores, which have the lion's share in the business, have been supplied with products by 'P' Delivery Service, which is related to the former company. The union argues that it is illegal, and collects evidences to accuse the firm.
Union leader Lee Yong-sun said "We've made a lot of concession and agreed on many other things with the corporation. Within about 20 articles left there are two things that we can never concede." One is ensuring the operation of union including providing union office and accepting full-time union worker. And another is increasing wage. Lee pointed out that while the Haagen-Dazs workers are receiving 30% lower wage than that of workers in the same business on average. Lee also claimed that if the corporation doesn't show their will to adjust it, then building a committee would be an alternative. The committee is supposed to consist of equal numbers of both employers and employees to invest the business practices and seek out agreeable level of wage.
The union is going to have a meeting with General Manager for Asian Region. Without any result, the union will kick into high gear in pressing the company through more frequent and intensified strikes, which is for the present one time a week.
Real editing time : January 23, 2008
Registration : February 20, 2008
trackback URL http://www.newscham.net/news/trackback.php?board=news_E&nid=46433 [copyinClipboard]