all text articles
Home
>
list
>
labor
Newcore-E·Land Union, "Going to HongKong"
Lee Kkochmamm Reporter iliberty@jinbo.net
It has been passing for 8 months since Newcore and E-Land workers' struggle was started. Against massive lay-off caused by the enforcement of a bill on irregular workers and the outside order proceeded simultaneously, they started this struggle, but it has not been solved during over 6 months.
In the mean time, although once Newcore-E·Land Union has demanded the swift resolution to the company with the significant stepping back proposal, the company replied dismissal and punishment for the union leaders and members. Therefore, the Newcore-E·Land Union is planning to extend anti-sale campaign for making an impact on total sales to the clothing brand of the E-Land company from its distribution stores such as Homever and Newcore which has been proceeded.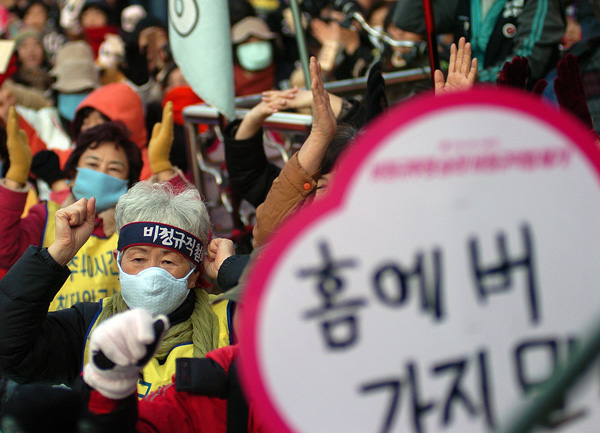 ▲ It has been passing for 8 months since Newcore and E-Land workers' struggle was started/ChamSeSang Photo

Regarding to this recent plan, the E-Land General Trade Union criticized "E-Land company is doing everything with their power to stand its colors for the purpose of union annihilation, burning its ships with benefits from the clothing brand and Chinese corporation of the E-Land company" and "It's impossible to persuade the E-Land management because their purpose to freeze and annihilate the union is too obstreperous to communicate together"
The Newcore Union also denounced "The E-Land company has not shown its will to solve the dispute yet" and " Rather, they are expecting union's surrender felling on its knees and are with blood in their eyes to wipe out the union."
Launching anti-sale campaign to the "Who Are You" stores, "for the swift resolution"
Responding to this attitude of the E-Land company, the Newcore-E·Land union is planning the long distance struggle in Hong Kong with the purpose to block launching a share offer of Chinese corporation of the E-Land in Hong Kong and strike a blow at its clothing brand.
With the first step of this struggle, Newcore-E·Land union will hold a rally in front of the HyeonDae department store at 2pm in the 12th of February. About this rally, union announced "demanding to force out "Who Are You" which is the E-Land clothing brand placed in the HyeonDae department store, we will press the capital of the E-Land directly". To this struggle, the union is going to demand the meeting with the boss of department store. "Who Are You" is known to have 40 branches throughout the country and to prospect 5 hundred millions won as total sales in this year.
Union explained "members who have continued the strike are very weak due to economic distress and aggravated health condition caused by long time strike", " hoping seriously to finish this struggle as soon as possible, we can't avoid this extreme struggle against the E-Land capital" and urged the swift resolution.
Translated by Seo Seonyoung
Real editing time : February 12, 2008
Registration : March 3, 2008
trackback URL http://www.newscham.net/news/trackback.php?board=news_E&nid=46611 [copyinClipboard]